Everyone probably already knows so much about this palette and I know I must be the last person in the entire universe to do a mini review + swatches post on this but I just needed to, really! Ever since its release back in late 2011, I've been wanting to get my hands on the Urban Decay Naked 2 palette! Last Christmas I received this as a gift from my lil sister (@kidzedso on Instagram) and I was beyond psyched.
Little disclaimer, this is going to be a word & picture heavy post.
The Naked 2 palette features 12 full size eyeshadows in a mix of matte & frosty finishes. It comes with a synthetic bristles dual ended brush & a mini lip junkie gloss in the shade "naked". It is also packaged a whole lot different from the original Naked palette, it being in a metal tin type package with a snap closure. It has a bigger mirror than the original Naked palette. The Naked 2 palette seems similar to the original Naked palette at first glance but in reality this palette leans to much more of a taupe-cool browns color scheme while the original one has a warmer color scheme (I personally do not own the original palette but have borrowed it from a friend for comparison purposes and a "versus" post for the future). It retails for $50 USD (approx P2000), $80 SGD (approx P2600). In the Philippines its price ranges from P2800 (super sale!) to P3600 (a bit of highway robbery IMHO).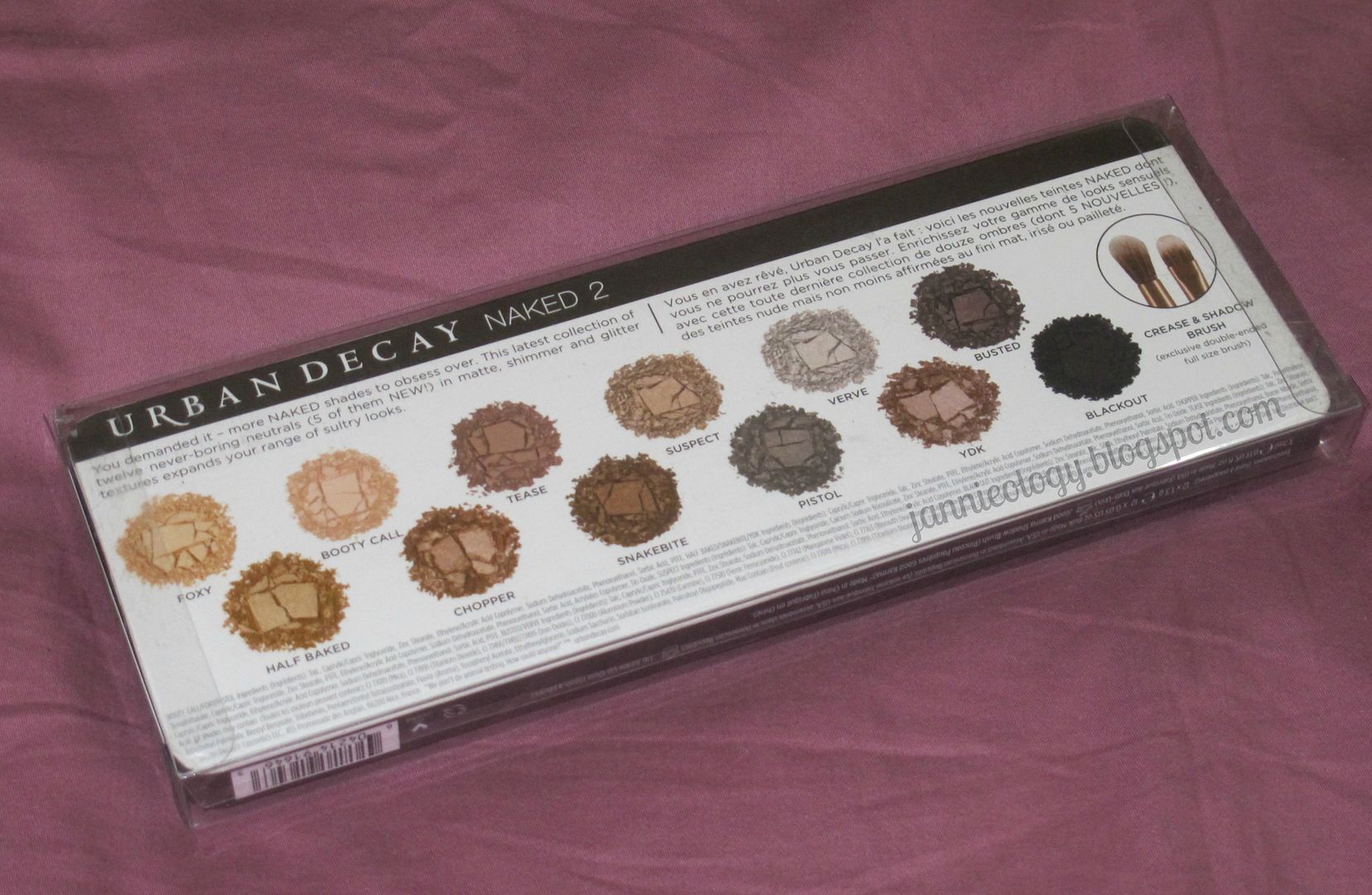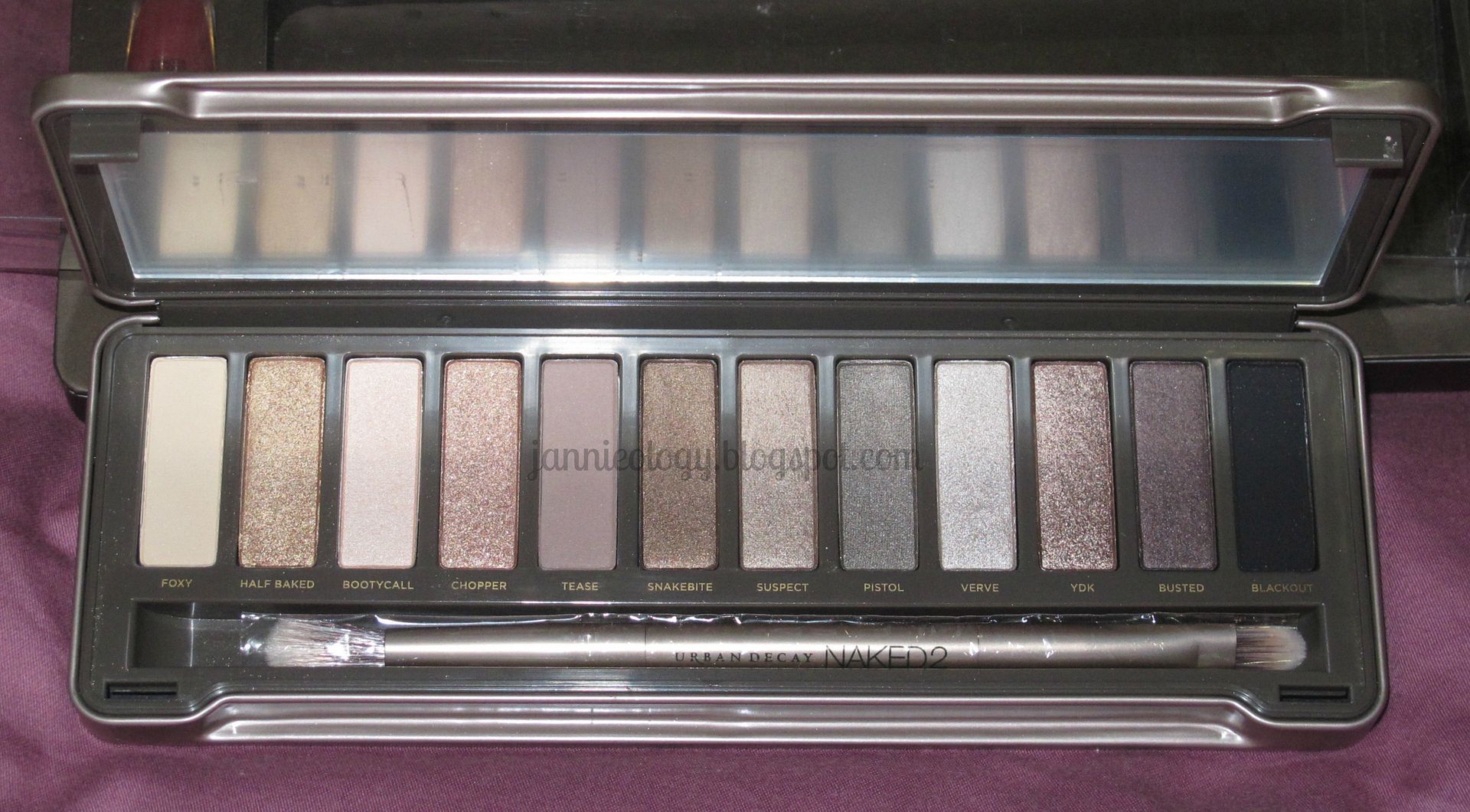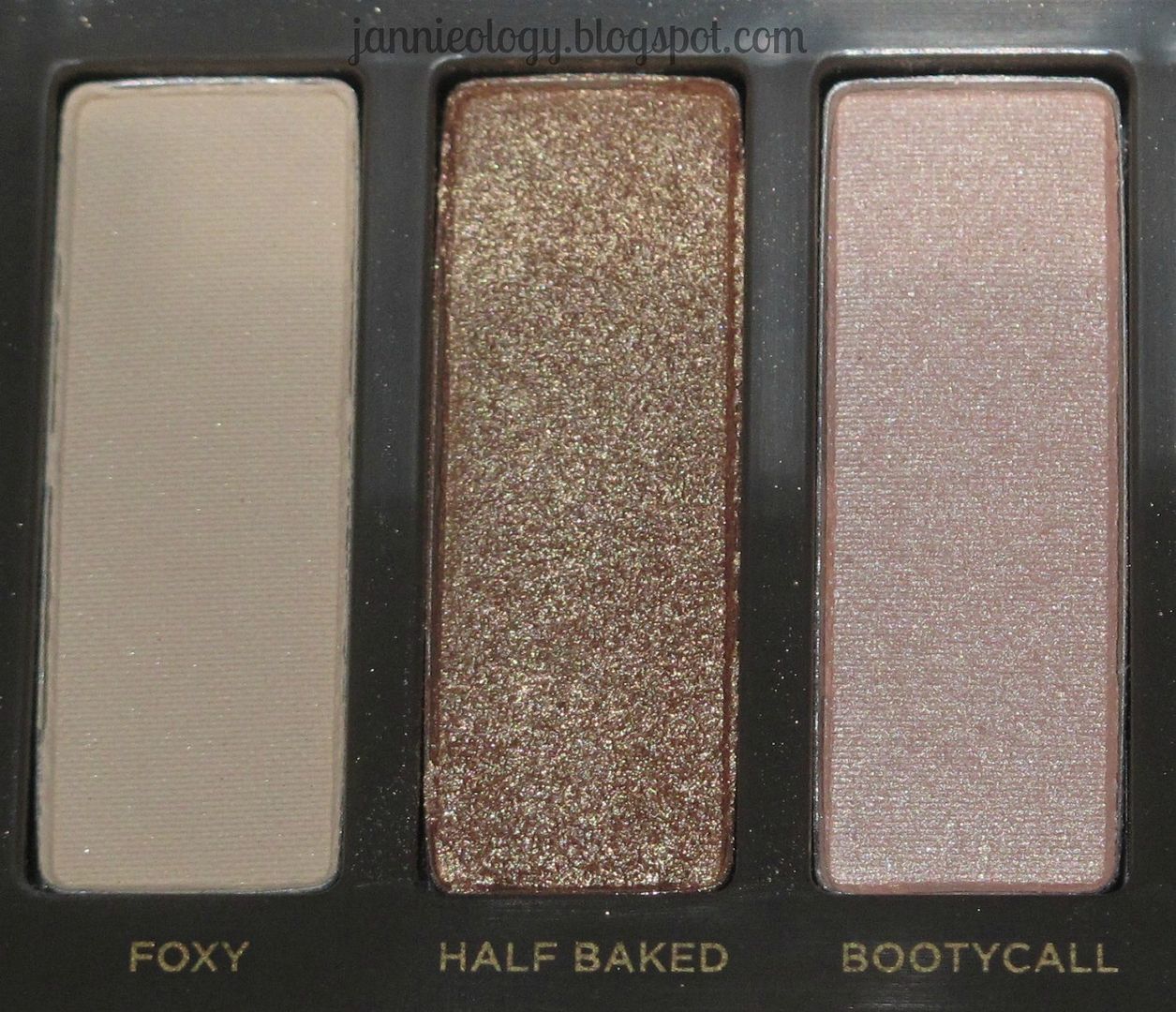 FOXY is a pale yellow-beige with a matte finish. It applies a bit sheer and can be a bit too powdery for my liking. I use this as an all-over-the-lid wash color and a brow bone highlight.
HALF BAKED is a coppery brown with a slightly golden shimmer to it. Has excellent color payoff & is a delight to blend. Half Baked is also in the original Naked palette & is part of the permanent range.
BOOTY CALL is a pale pink-white beige shadow with a frosted finish. It looks absolutely gorgeous as an inner tear duct area highlighter (& even as a lid color).
CHOPPER is a medium red-orange toned copper shade with a slight silver glitter sparkle (not so obvious in the photo) & is a bit prone to fallout.
TEASE is a mauve-brown that looks plummy in some lighting. It has a matte finish and can be a bit chalky but I still favor it as a crease color.
SNAKEBITE is an absolutely gorgeous dark bronze with a golden sheen. I am in love with this shade. It has a buttery consistency and is easy to blend. Lovely on the lid as it is in the crease.

** Lighting is a bit off in this photo! So sorry!**
SUSPECT is a light grayish bronze with a frosted, metallic sheen. A lovely lid color that I've been favoring lately.
PISTOL is a pewter gray shade with a frosted finish. The payoff is great and it is also very easy to blend. I've been using this as a soft transition color for my basic black smokey eye just to add that extra something to the look.
VERVE is a pale beige gray that comes off looking like an oyster shade in some lighting. I like using this as an inner tear duct area highlighter.
YDK is a coppery midtone brown with a slight silver shimmer. Has good consistency but still a bit prone to fallout when I use it (maybe I should get a better primer?).
BUSTED is an deep burgundy tinted brown with a deep golden undertone. I love using this on my crease and on my lower lash area. It has a soft frosted finish and awesome color payoff.
BLACKOUT is an intense matte black shadow. Has great color payoff and goes on an opaque matte black that's a must for me. Great as eyeliner too!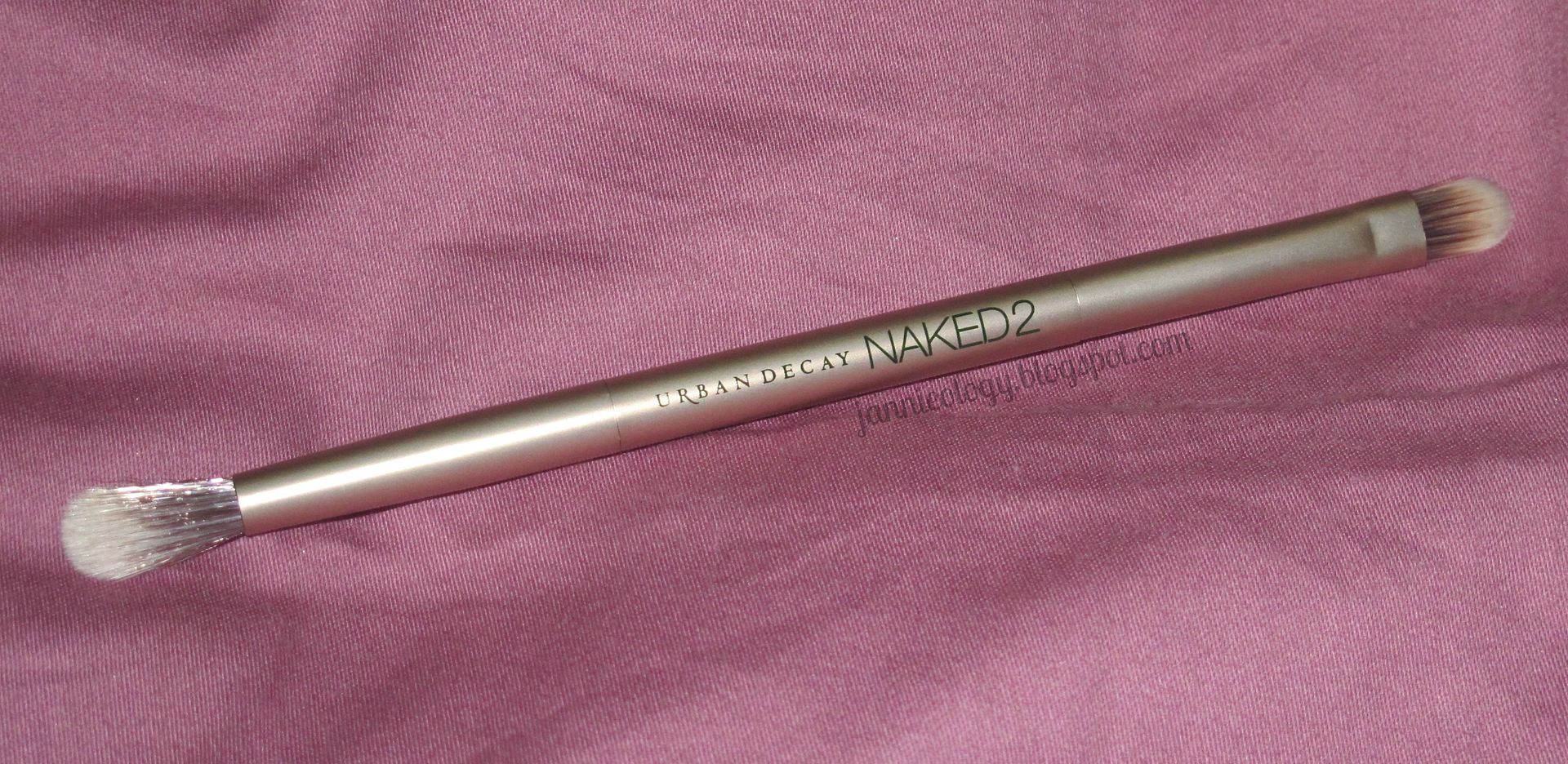 This dual ended brush also comes with the Naked 2 palette. In the original Naked palette, a dual ended eyeliner pencil was included. I personally would have preferred the dual ended eyeliner pencil BUT this dual ended brush is pretty nifty too especially when you're on the go and need a good brush to do your eye makeup. One end has a flat shader brush and the other end has a blending brush. Both are made of synthetic fibers.
Lastly, this mini lip junkie gloss in the shade Naked was also part of the "package". It is a pretty medium rosy pink shade that screams "perfect with any look". It "cools & plumps" and is currently my favorite. I've been reaching for it the past few days. I might have to look for the full size one soon. This is definitely one gloss I wouldn't mind using everyday. It has a very strong minty smell (& taste) to it which doesn't bother me personally BUT may be offensive to other people.
So, there you have it folks! My mini review + swatches. I'll be posting looks using the Naked 2 palette soon. Anyway, what do you think of the Naked 2 palette? Do you own it? If yes, do you love it? If no, are you planning to get your hands on one?
Catch you guys next time!