It's been a while since I last posted anything makeup-related on my blog. It's a funny thing since this blog used to be mainly a beauty blog. *lol* Anyway, I'm here with a couple of lipsticks that I've had for over 2 months now. They're the L.A. Girl Luxury Creme Lipsticks which I purchased a while back from Makeup Inbox PH (formerly known as NYX Wholesale PH).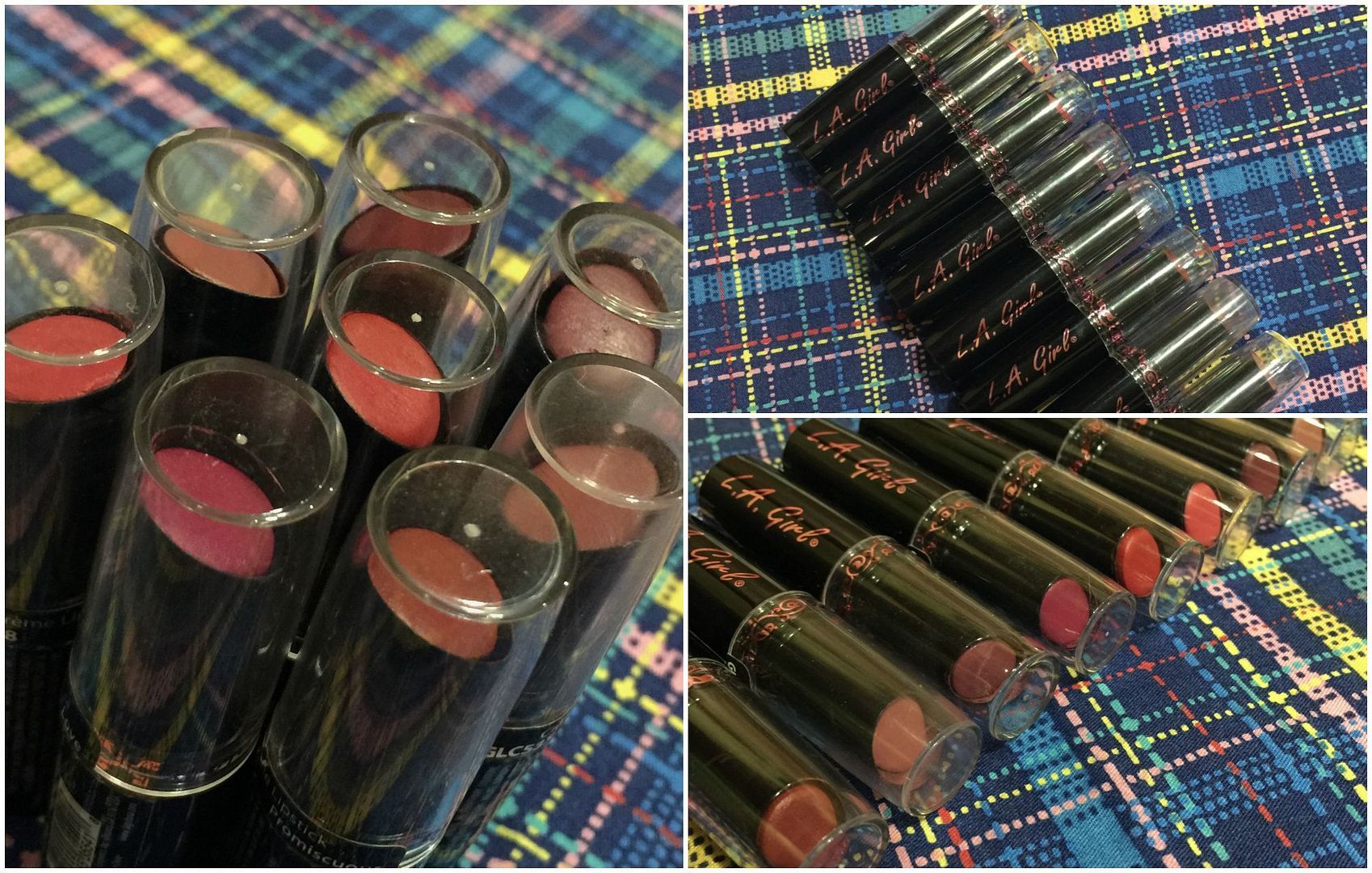 I purchased over 20 pieces because some friends had ordered with me and I even sold some other shades through my old online shop (Unicorn Delight) but I kept some shades for myself as well. I kept 8 shades that really caught my eye. Take a look at them below!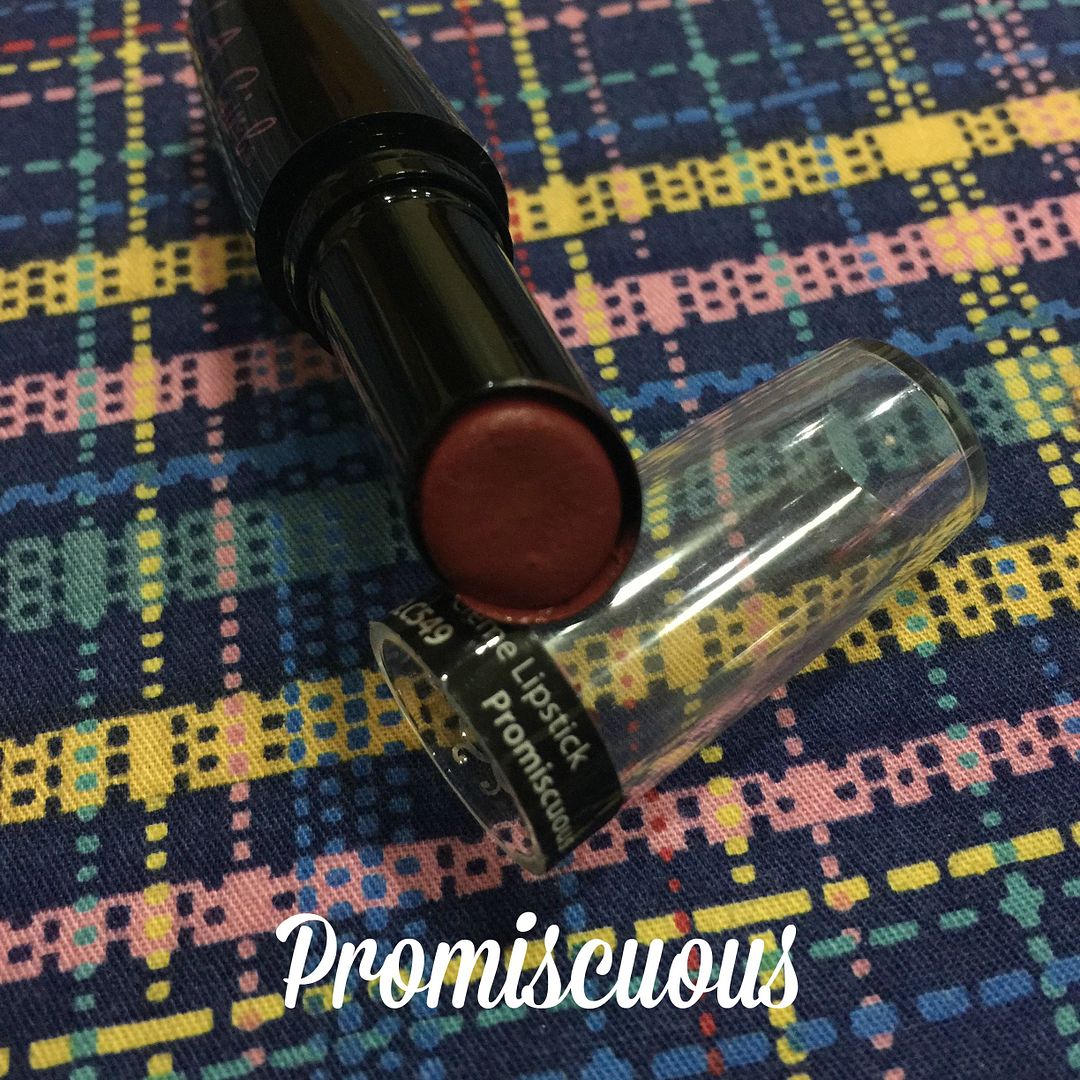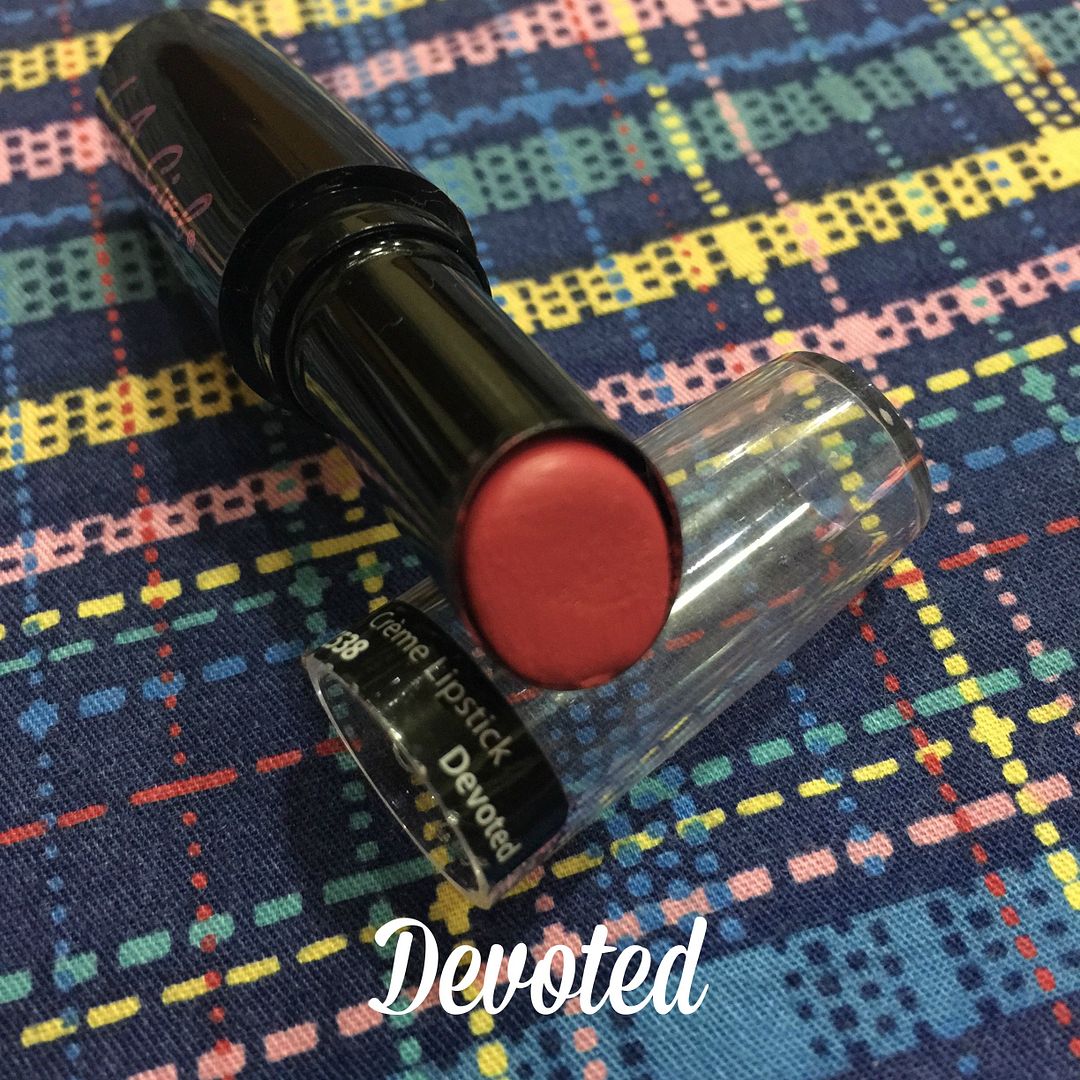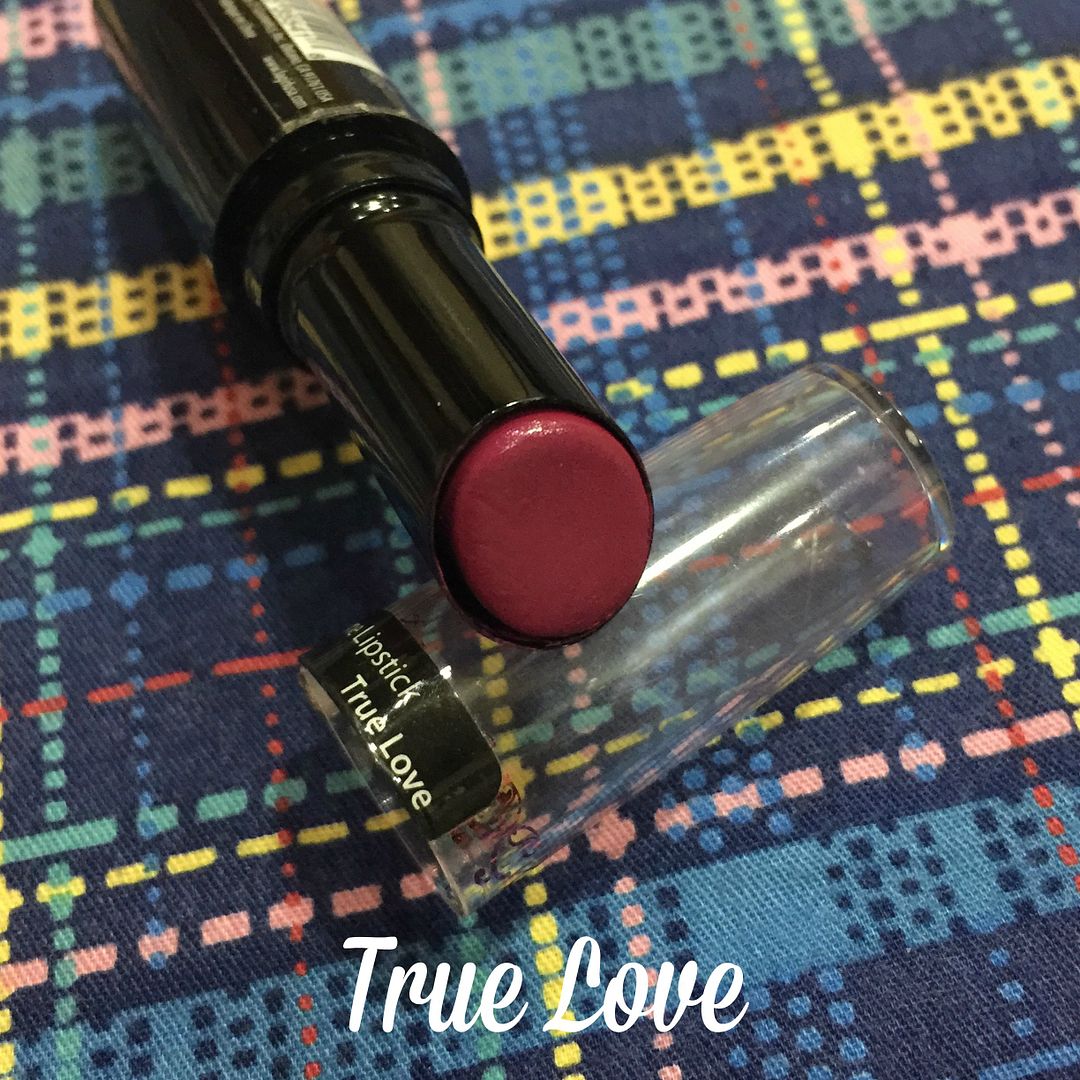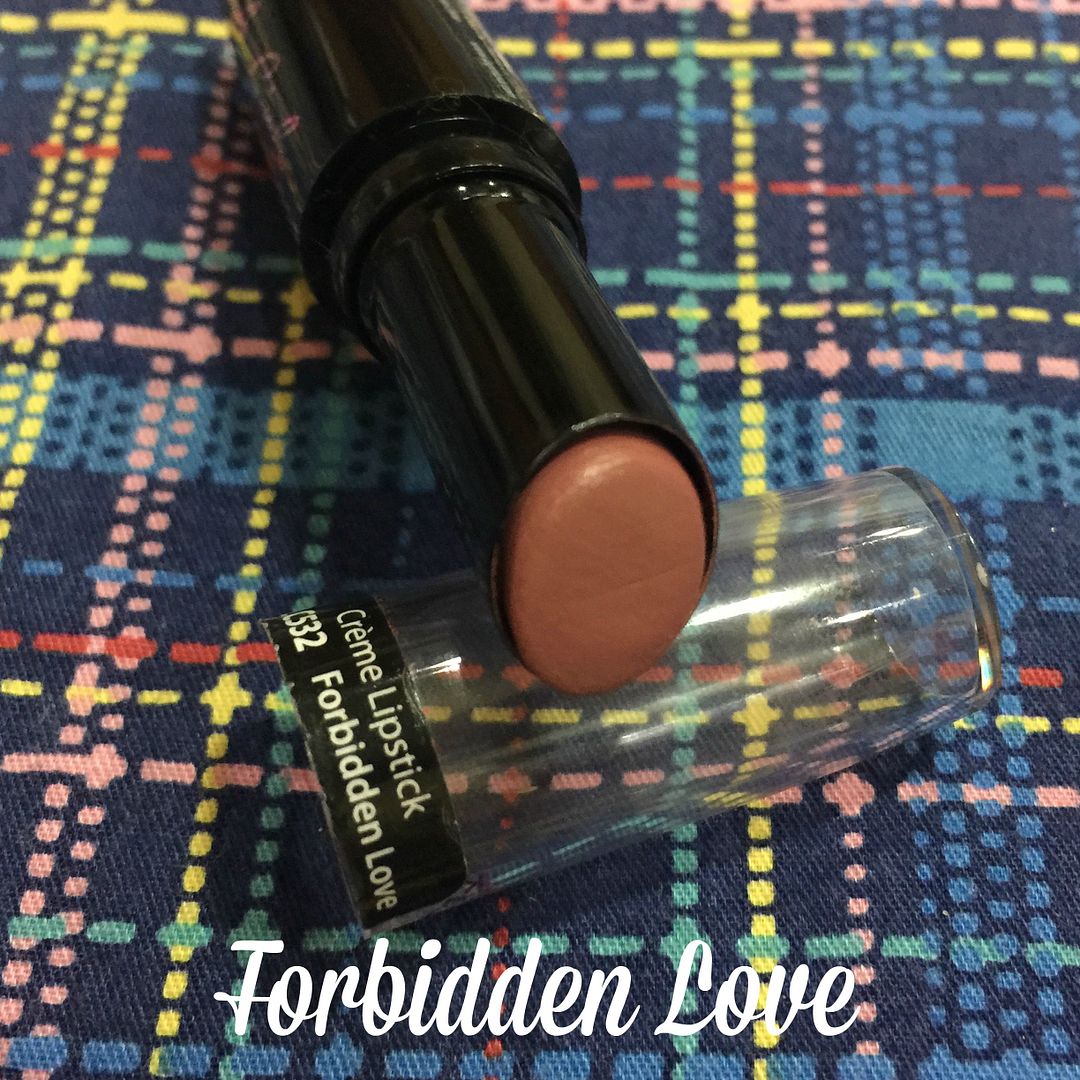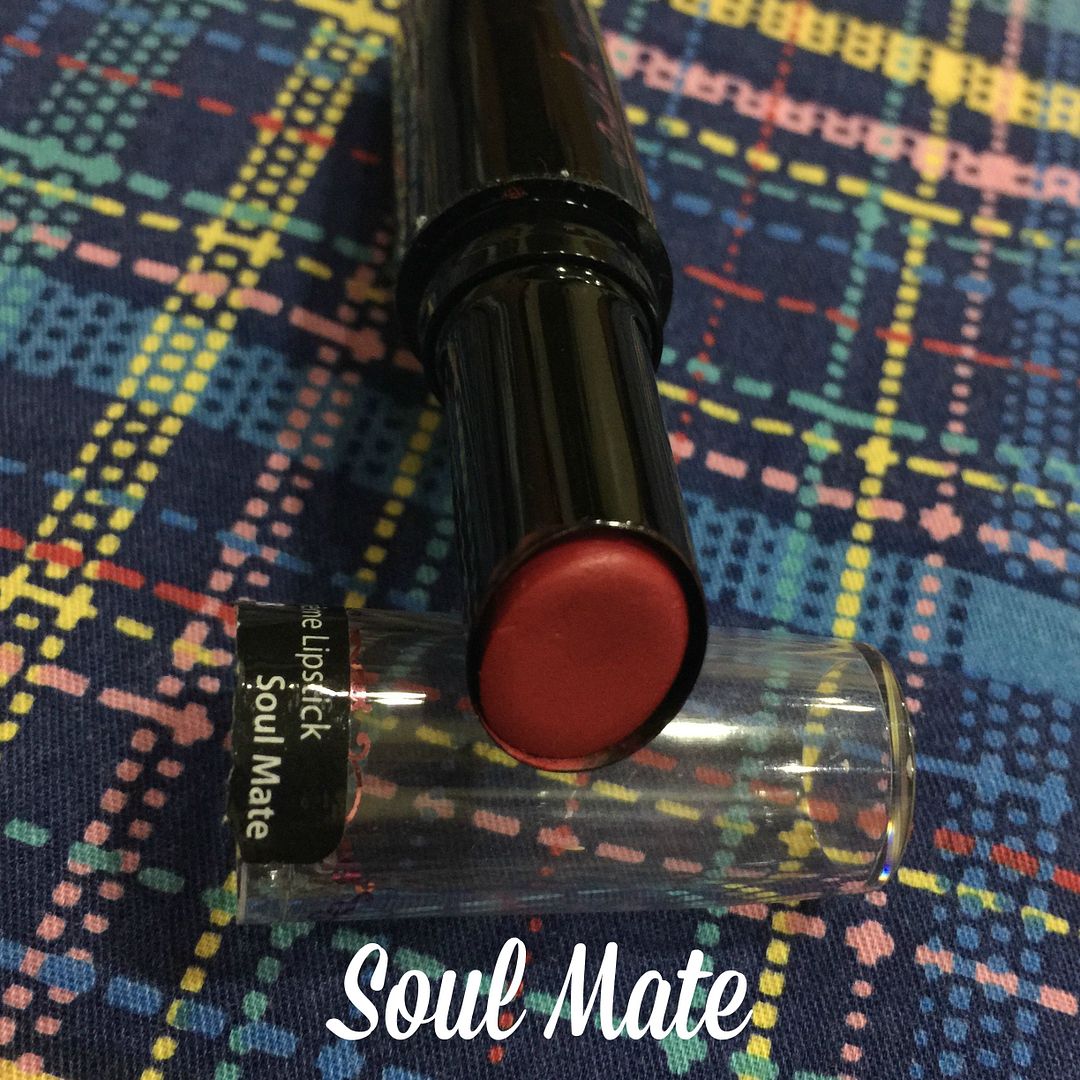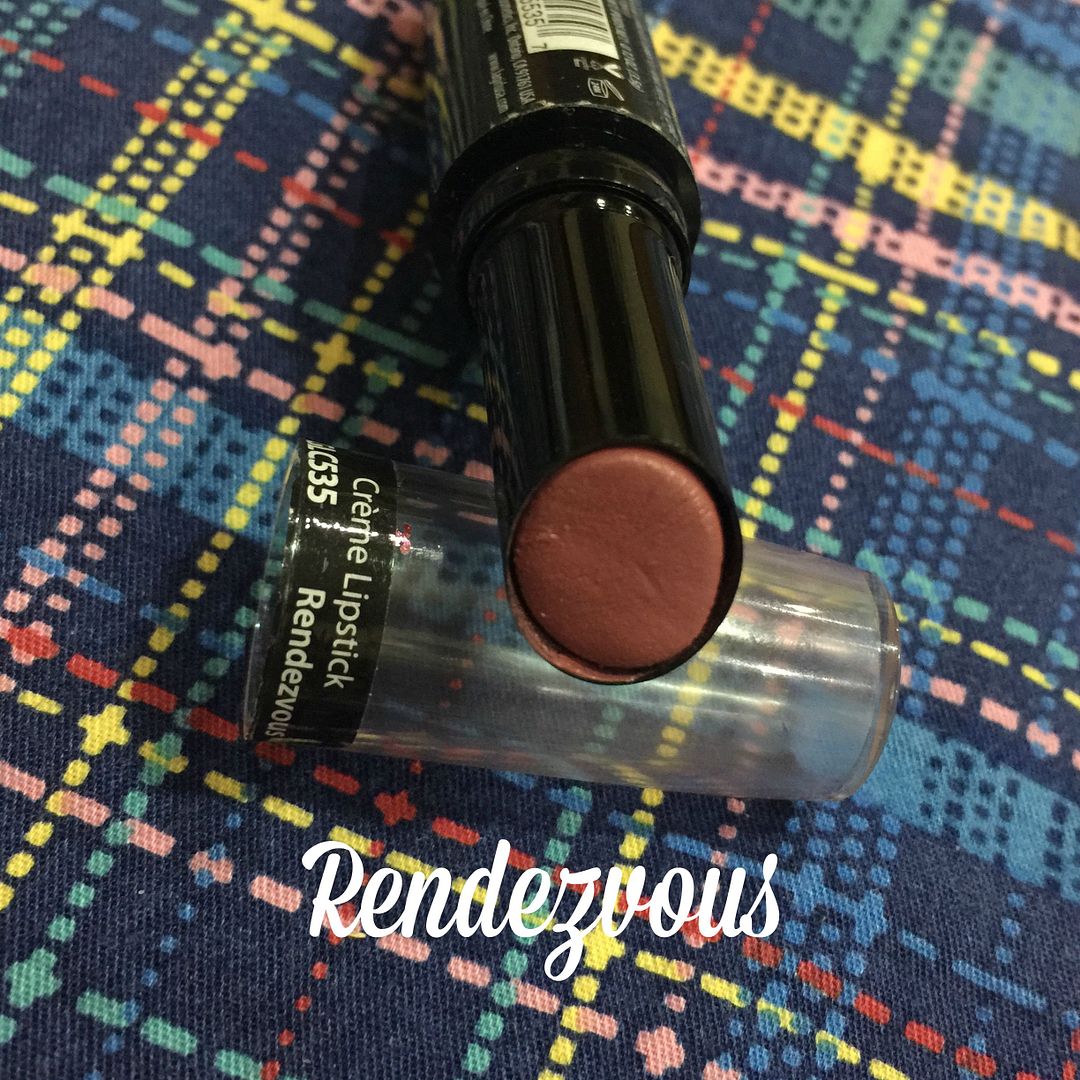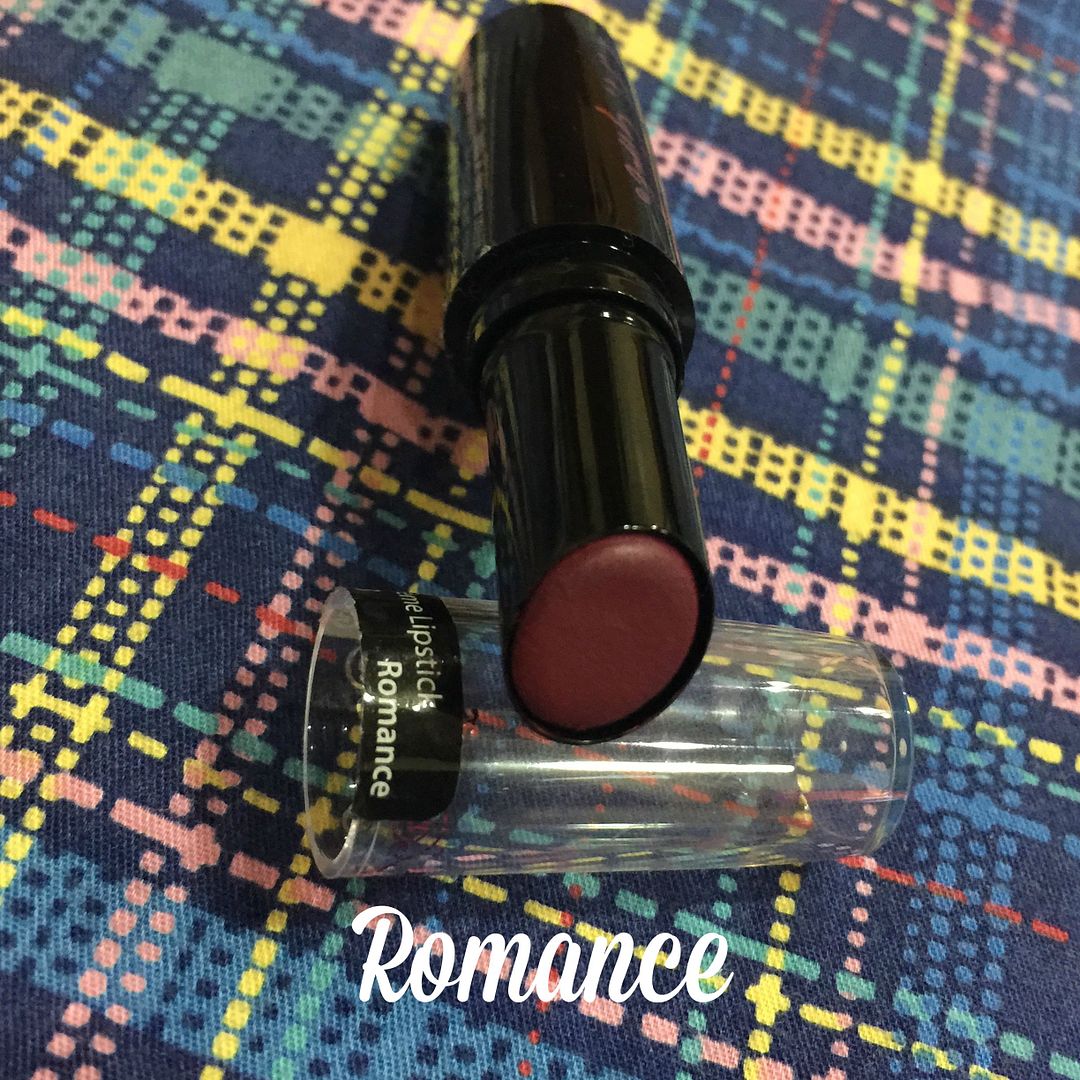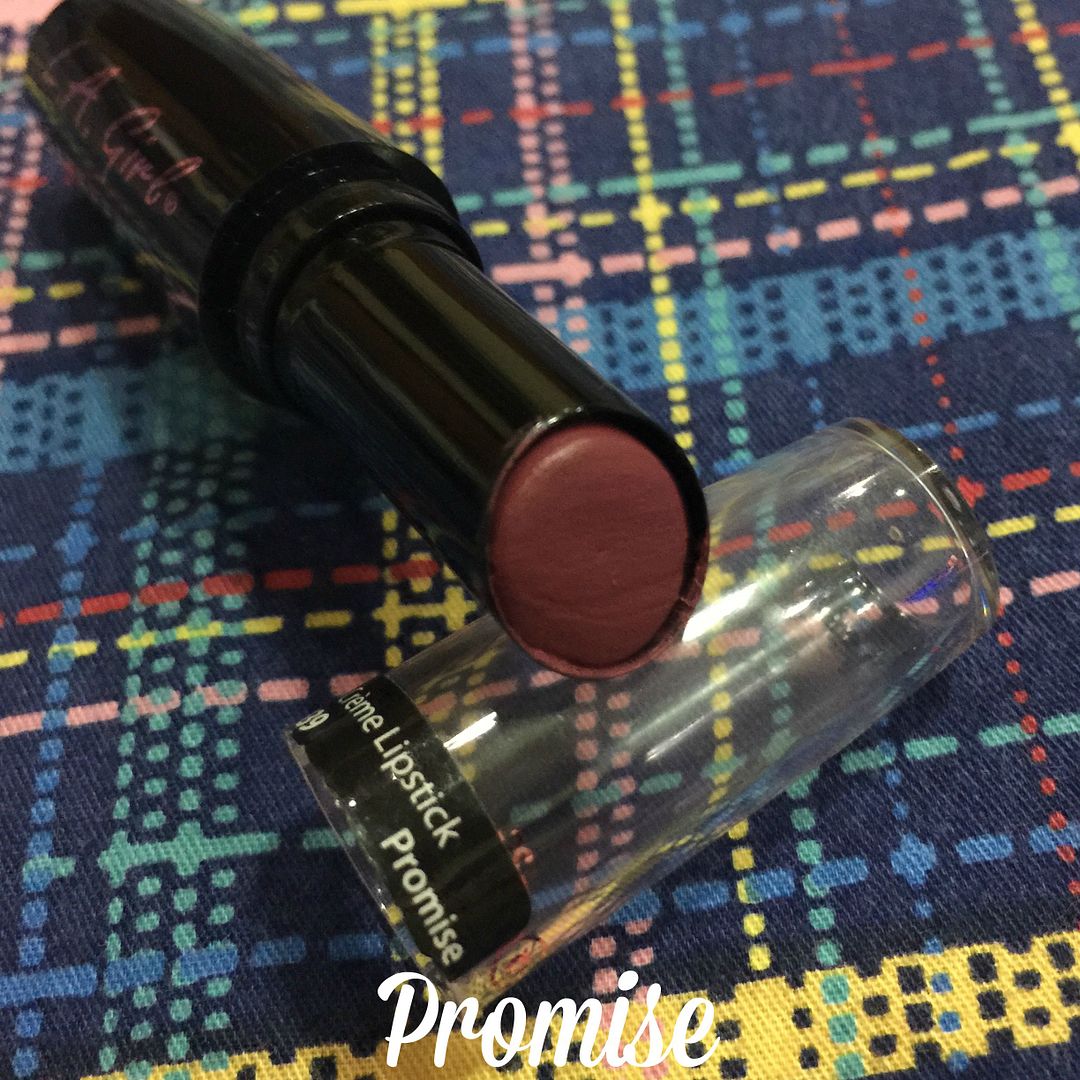 What : L.A. Girl Luxury Creme Lipsticks
Where : Makeup Inbox PH
Price : P100/tube
Product Description (based on the site) : "Luxury Creme Lipstick delivers ultra rich colors in a lightweight formula. Its blend of moisturizing ingredients of aloe, shea butter & vitamin E enhances lips, leaving a smoother, healthier feel. Glides on effortlessly with the slant top for a flawless, even coverage.
What I Liked :
* At P100/tube, it's a very affordable product to "collect" (like I do!). They are probably one of the most affordable tubes of lipstick I have in my collection.
* They are very pigmented. One full glide off the tube is enough to deliver a beautiful and even coverage.
* It lasts a pretty decent 4-6 hours for the darker shades and an acceptable 3-4 hours for the lighter ones. It doesn't feather which is another plus!
* It's very moisturizing, creamy and application is a breeze. Even on days that I have chappy lips, this products doesn't aggravate the situation, and because this product has aloe, shea butter & vitamin, I know that it's helping my lips too!
What I Didn't Like :
* I have a slight problem with the fact that it's scented. The product gives off this slightly soap-like smell which I don't really like. It disappears once the product really settles into the lips.
* I don't really like the packaging on these lipsticks. Though the locking mechanism on the cap is great (unlike the Wet N Wild megalast lipsticks) it still feels pretty "cheap" and prone to breaking. The transparent cap makes it easier for me to check the shades but it's also very prone to getting dirty with product stains. I also wish the product name label was on the actual bullet body than on the cap.
Now, onto swatches! (1 full swipe each)
* Promiscuous is a brownish red which most would consider as a brick red shade. It definitely belongs with my other "fall" lipsticks. This is similar to Wet N' Wild's megalast lipstick in Cinnamon Spice, only with a creamier consistency.
* Devoted is a natural peachy pink which goes with about almost everything. I like reaching for this shade when I want a no-brainer wash of color.
* True Love is a berry tinged pink (blue based) which I usually reach for when I want a pop of color.
* Forbidden Love is a nude-brown. I'm pretty careful with this shade because it can make me look a bit "sick" at times.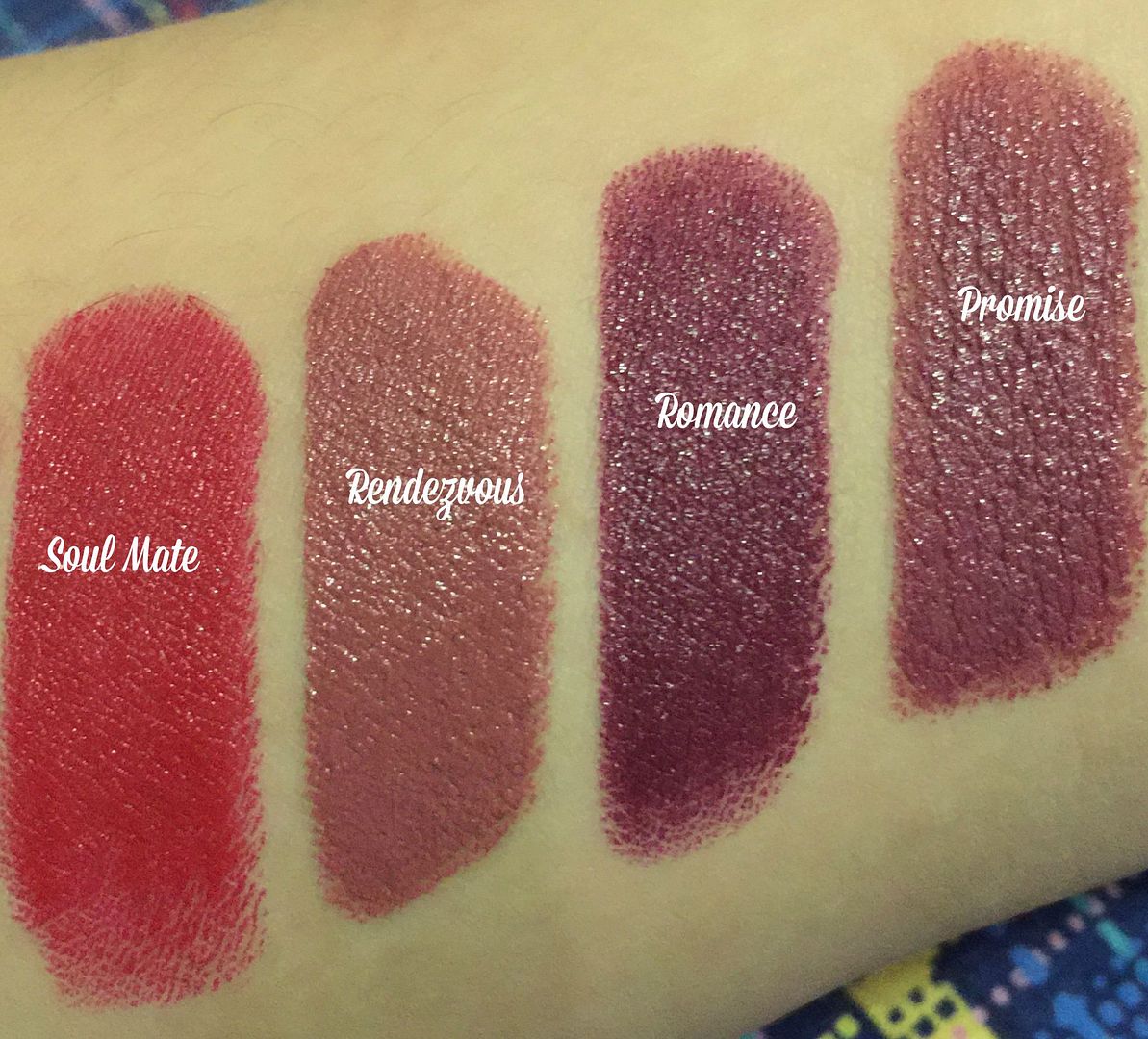 * Soul Mate is a bright pinky red which looks pretty amazing on my medium skin tone.
* Rendezvous is a pinky-nude which is my current go-to nude lipstick. This can even pass off as a my-lips-but-better shade!
* Romance is a purple berry shade. It can be a bit frightening in the tube (and on my swatch!) but a thin/blotted layer of this on the lips leaves a beautiful mulberry-like shade.
* Promise is a mauve shade which I usually wear when I want a darker shade but I don't want to commit to something as dark as the romance shade.
Now for the exciting part, a giveaway! Checkout the rafflecopter app below for the mechanics.
This giveaway starts today, August 24, 2015 and ends on August 31, 2015 at 11:59pm.
It's open to all my Philippine based readers & supporters. Good luck!
a Rafflecopter giveaway