It's been a long time since I posted anything beauty related on this blog and I've put this off long enough. I'm going to be talking about a well hyped product on this blog post and it's none other than the L.A. Girl Matte Flat Finish Pigment Glosses.
2015 seemed to be the year for everything matte and at the top of that list of matte products are matte lipsticks and lip "glosses". It's kinda funny that they still call it gloss when it's not glossy at all! Anyway, going back to the product... Like I said, there was quite the hype for this product. This made it difficult to get a hold of and had online shops jacking up its price!
I searched high and low for this product. I didn't really want to get them online because I was being a cheapskate and wasn't willing to pay extra for shipping. Lucky for me my friend Dana H. had them in stock by December 2015. Yes, I was only able to get my chubby fingers on these by the end of last year! I got this at P350 a pop.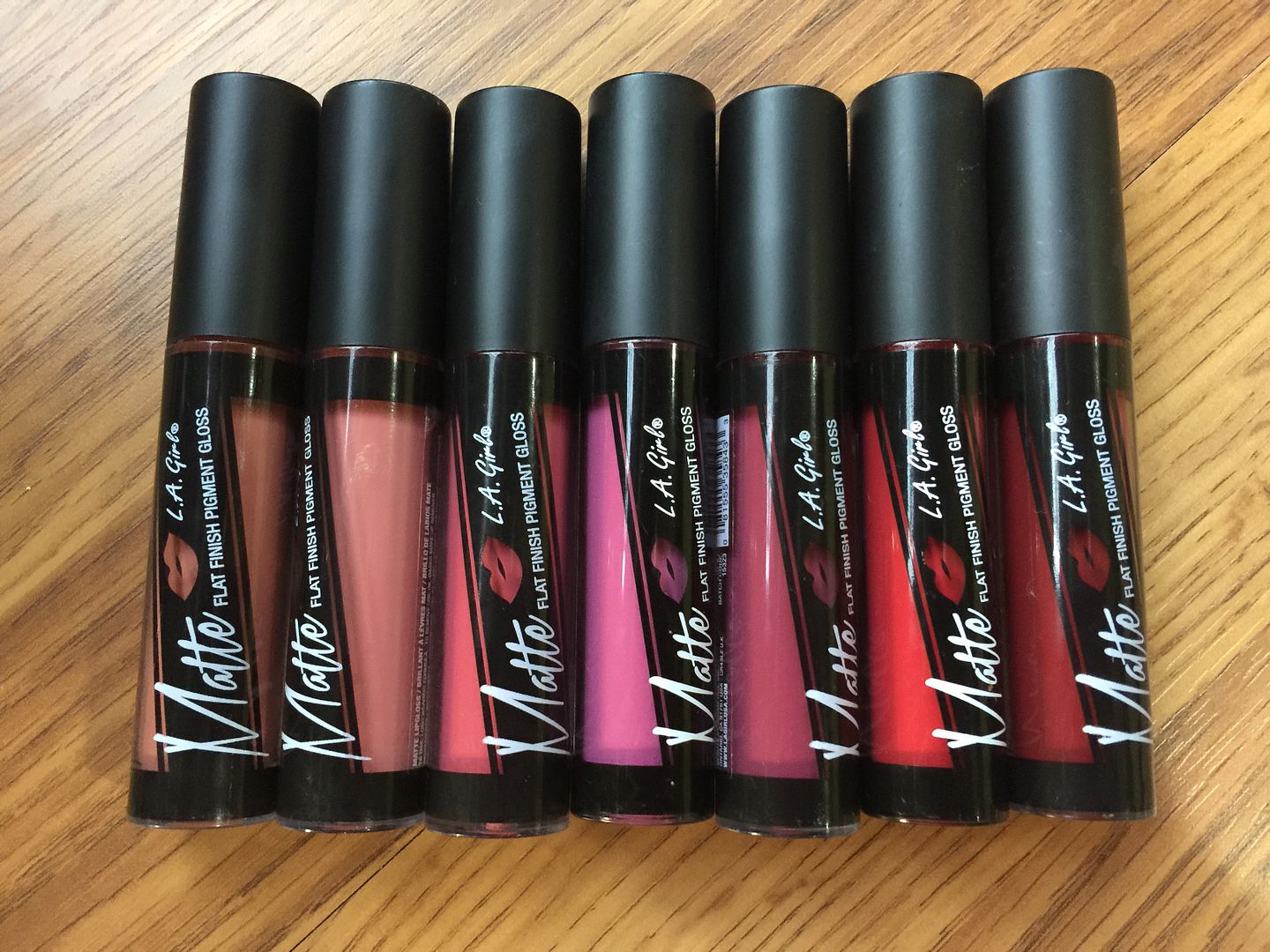 Left to Right : Fleur, Dreamy, Bazaar, Timeless, Rebel, Frisky, Secret
To be honest, I had such a difficult time picking out what shade I wanted to purchase. This line has a total of 16 shades and I really wanted to try each one but I know that it would be a waste of my money to get a shade I wouldn't really reach for often. In the end I settled for these 7 shades that I think really complement my medium skin tone...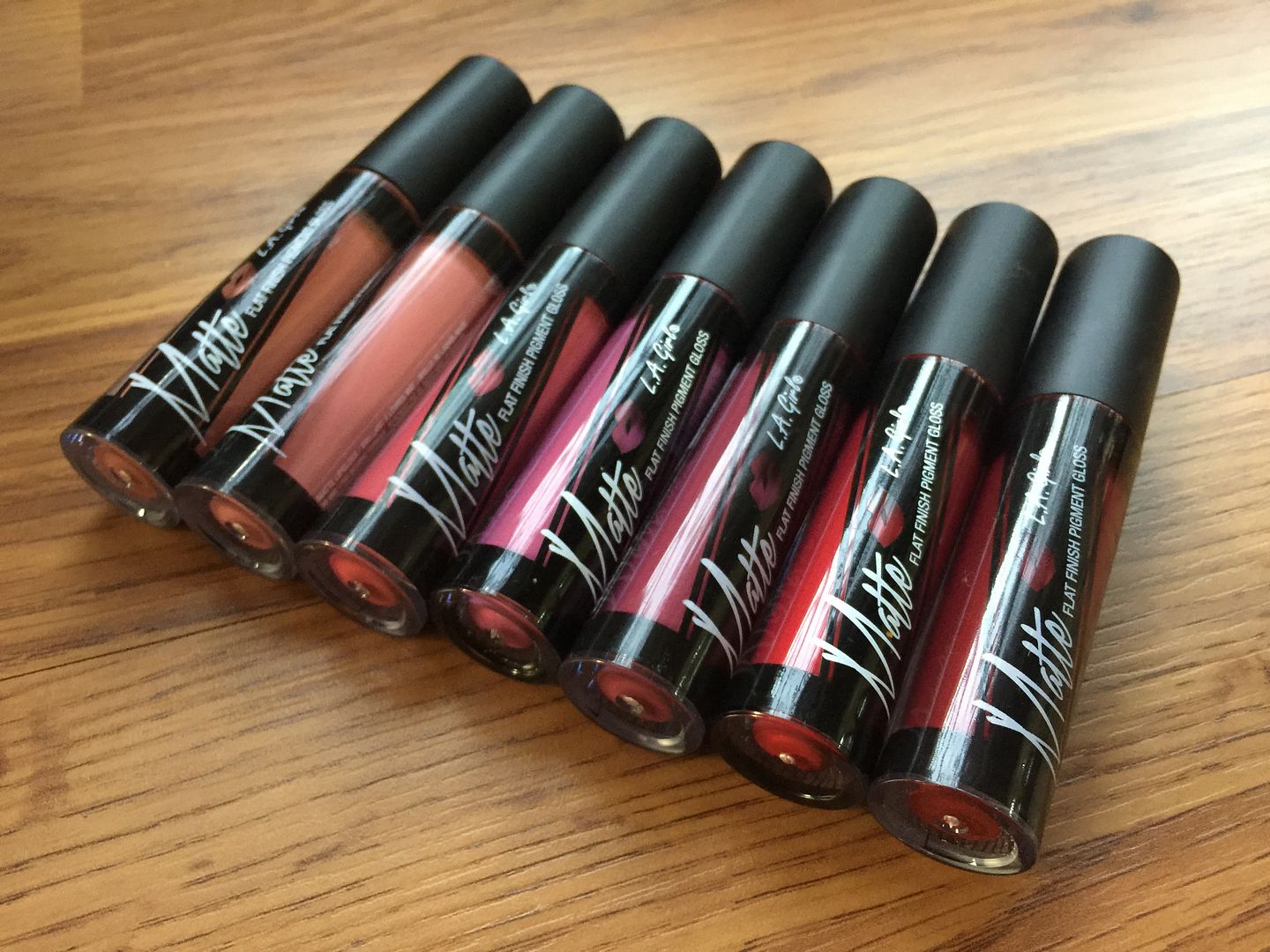 I'm going to try to keep my review short & simple...
Packaging : I love the black + transparent look of the tubes. The cap's material is also more dirt resistant than those of the NYX soft matte lip creams (if you guys know what I mean!). It's well made and seems tough enough to withstand accidental dropping (yes, I've dropped them!).
Applicator : It's flat paddle-like applicator needs a bit of getting used to but it picks up just enough product for both your upper and lower lip. It tapers towards the end so it's easy to get into all the nooks and crannies of your lips.
Pigmentation : Off the charts! One swipe is all you really need to get an opaque look with the darker shades... Definitely a 2 thumbs up in this category.
Scent : No scent at all, which is how I like my lip products.
Longevity : WILL BLOW YOU AWAY!~ Well, it does slightly wear off in contact with oily food or anything oil based BUT apart from that, this will last you all day.
Dry/Flaky/Sticky : Okay, so here's the tough part. After all the positives, I do need to say that there are some shades that I had problems with in regards to stickiness and dryness... I noticed that the lighter shades seemed to be a bit more tacky and flaky on me compared to the darker shades. Fleur & Dreamy always seem to give me a tough time! *lol*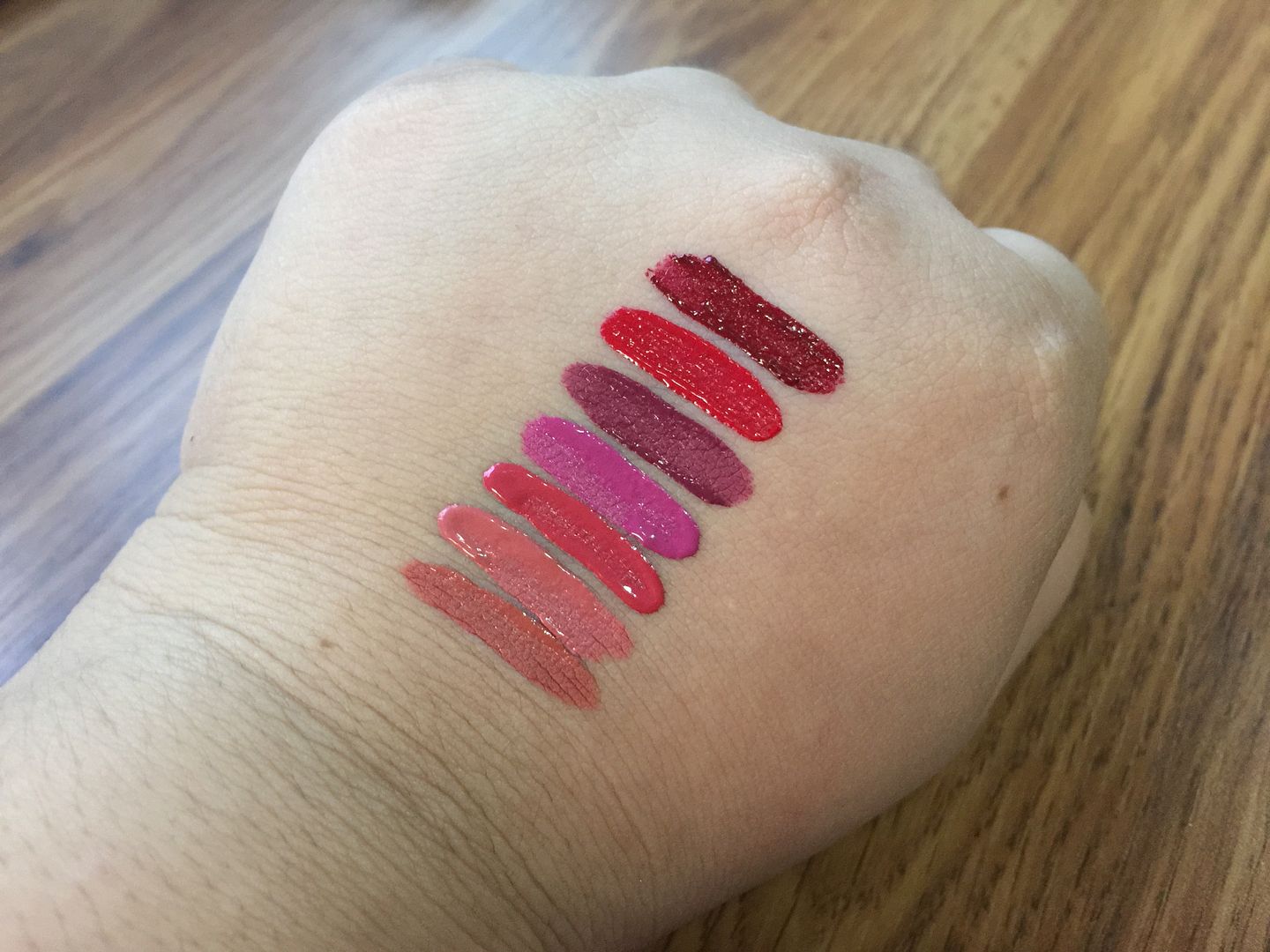 Swatches! Take note that I snapped this photo before the swatches fully dried hence they look glossy but in real life they dry completely matte! I didn't have the patience this time to do lip swatches BUT I promise to do so when I review a new product soon... Cross my heart!
Bottom to Top : Fleur, Dreamy, Bazaar, Timeless, Rebel, Frisky, Secret
Fleur : Nude with a slight terra cotta tint. To be honest, doesn't really sit well on my skin tone.
Dreamy : Pinky brown nude. Definitely a must have.
Bazaar : Deep rose shade that wears beautifully on medium skin tones.
Timeless : It looks bright in the swatch but this is actually a deep fuchsia shade.
Rebel : A deep plum.
Frisky : Pin up red all the way!
Secret : A deeper and classier red, best worn at night...
Well, this is all for now... Watch out for my next review coming soon!