Liquid lipsticks have been all the rage since early 2015. I think my first encounter with this type of product is with the NYX Soft Matte Lip Creams (which I loved!) but they can be a bit pricey.
Over the months I've seen a ton of brands come out with liquid lipstick type products and I've always been intrigued but the thought of splurging so much on a hyped product is a bit off putting till I stumbled upon this new product called Matte in Detail that retails for about P200-250/tube.
I saw these babies first posted by a friend and fellow blogger Deann Sarmiento but they are also available at the Cosmetix website.
What : Matte in Detail Liquid Lipsticks
Price : P225/tube
Where : Deann Sarmiento
Left to Right :D10 Rhea, D9 Jhen, D3 Rox, D7 Naima, D4 Sabrina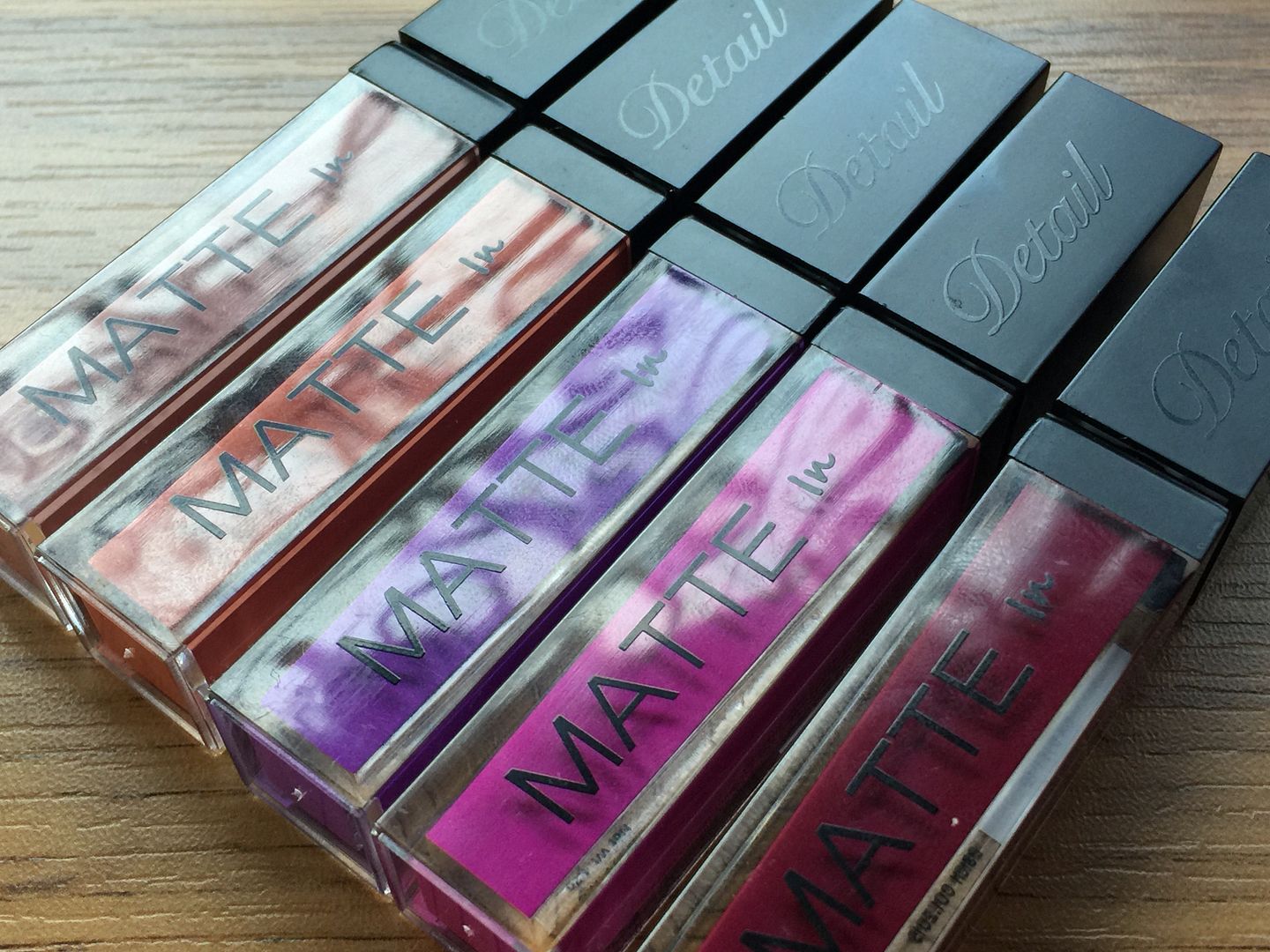 The liquid lipstick is housed in a simple small, clear, squared off tube with a small doe-foot applicator that's good enough to spread the product evenly. It can even reach right into the corner of your lips. Let's move on to some more swatches!
Left to Right :D10 Rhea, D9 Jhen, D3 Rox, D7 Naima, D4 Sabrina
Rhea - is a mauvey nude that doesn't wash me out. One of my favorites!
Rox - bright periwinkle-purple shade. Out of my comfort zone but still lovely.
Jhen - is a classic peachy nude. Another one of my favorites. It really brightens my complexion.
Naima - bright pink-magenta shade. Has a very nice summer vibe to it.
Sabrina - is a dark plum shade. Best for evening wear.
Check out my "when worn" swatches!
Pros:
Affordably priced.
Locally available.
Sweet melon scent - this is one of the rare times I don't mind a product having a scent.
Lovely velvety texture that glides upon application.
True to tube - what you see is what you get.
Variety of shades.
Dries to a true matte finish.
Good lasting power - up to 5 hours on me (but less if I eat!)
Cons:
Lighter shades applies a bit patchy, like D10 Rhea.
If your lips are a bit on the dry side, it can cling to the fine lines and make your lips appear more wrinkly. Your best bet is to exfoliate!
Okay, to wrap it all up, here's another photo of me wearing one of my favorite shades - D9 Jhen!
Have any of you tried this product out? What are your thoughts about liquid lipsticks in general? Suggest more products for me to try out! *wink*