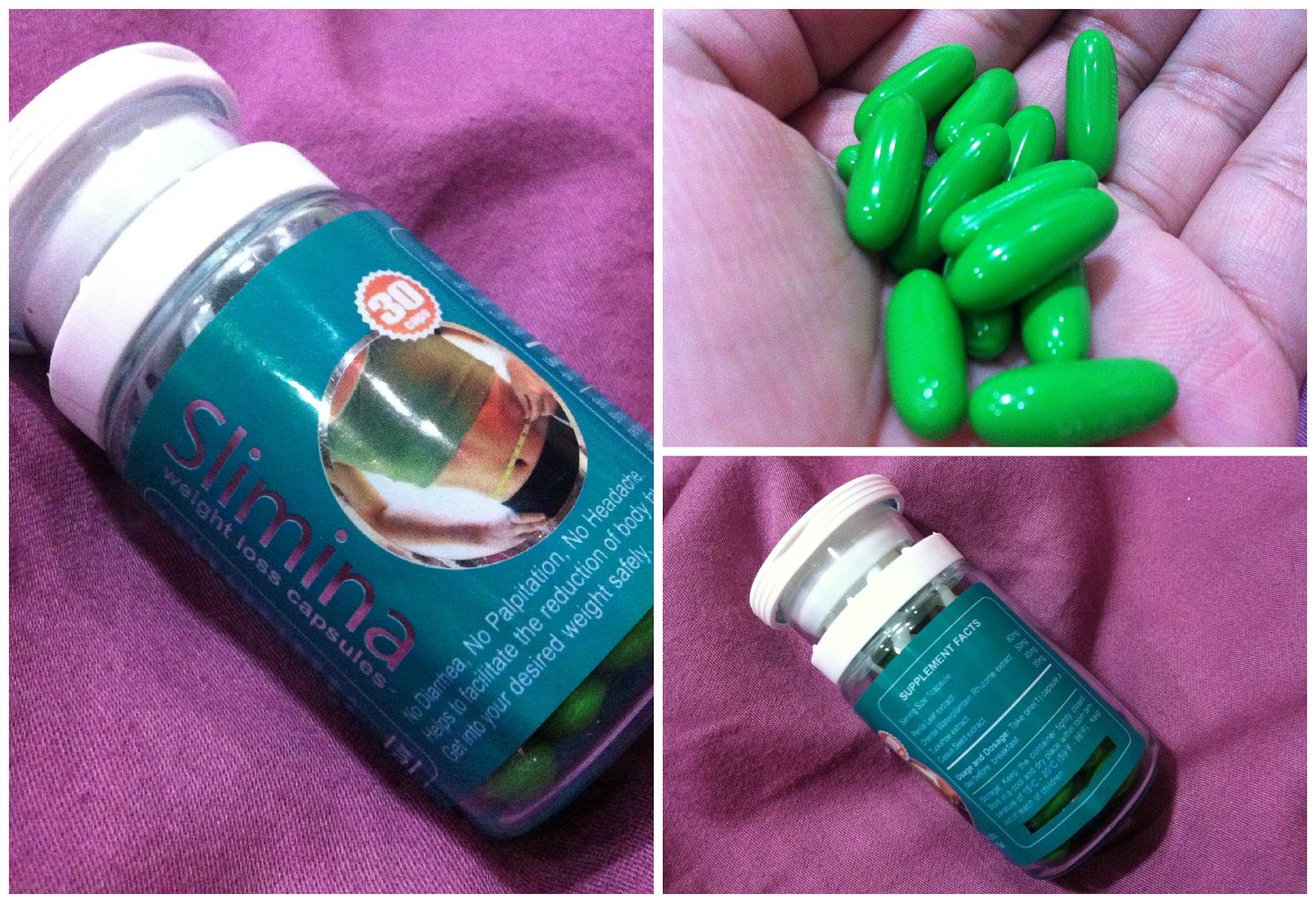 A few weeks ago I reviewed the GEO Nudy Brown lenses from Miss Valerie of Dull to Doll but that lovely pair wasn't the only thing I got from her. She sent me a free bottle of one of her "best selling" products which is the Slimina Weight Loss Capsule.
You might be surprised or rolling your eyes at me but I'll try anything once so I decided to give this a go and share my experience with you guys. Prior to starting with taking Slimina I decided to weigh myself since it's the logical thing to do, right? I weighed in at 98kilos (yes, not afraid to admit it!).
Here's what they say about the product:
SLIMINA Weight Loss Capsules is formulated from herbal plants that are recognized for their unique properties and have been widely used for centuries. The capsule has passed the RC Drug Certification and is Manufactured by SFDA approved GMP ( Good Manufacturing Practice ) factory. This product has been proven to be safe and effective; it has no negative side effects such as palpitation, nausea, diarrhea and rebounding.
Not applicable for women in pregnancy and lactating mother.
Serving Size: 1 capsule
Perilla Leaf Extract 80 mg
Oriental Waterplantain Rhizome Extract 50mg
Tuchkahoe Extract 45 mg
Cassia Seed Extract 35 mg
Price : P990
Where : Dull to Doll
After more than 15 days, here's what I can say about this product.
I take 1 capsule 15-20 minutes before breakfast.
* You will have a dry mouth. You'll be craving water like crazy! I've been increasing my water intake the past few months but while taking this product, I drink even more water than usual. The dry mouth can be a pain sometimes especially when I'm in the middle of work but it's still tolerable.
* You will have the tendency to always want to pee. With all that water, I'm usually off to the comfort room after an hour or so. For me this isn't such a bad thing because it helps cleanse the body.
* Decreased appetite. The first three days, I didn't really experience this but on the fourth day onwards, I did experience a decrease in appetite but not really "big" enough that I won't actually eat. Plus, even if I don't have the appetite to eat, I make sure not to skip meals.
* There is a tendency of experiencing insomnia. Prior to taking Slimina, I don't typically have problems falling asleep but during the days that I took Slimina, I felt that I had that lil bit of "extra" energy leftover at the end of the day and I end up being able to fall asleep at 3am instead of the usual 11pm. Nevertheless, I really appreciate the extra energy in the mornings when I'm at work!
* Weight loss wasn't a drastic as I've heard it was for other people. I've read about people loosing more than 8 or 10 kilos with Slimina on the first week. I, on the other hand, lost only 3 kilos in the last 15 days. This is with an active lifestyle alerady (I work as a nurse and I'm on my feet most of the time.) I'm still looking forward to loosing more weight.
* Despite the claim that there are no negative side effects like palpitation I did experience these side effects when I took Slimina then had an intake of caffeine. So caffeine is a no-no when you're taking Slimina. You'll end up having headaches and palpitations like me! I stopped my caffeine intake while taking Slimina and all went smoothly.
* Slimina did not break me out, just in case anyone is wondering. I've read that other slimming products can break you out.
There really aren't any significant photos to post yet. I took a before photo, but I've decided to post that once I finish the bottle. Still, I urge those of you who intend to start using Slimina, to also partner it up with a healthy and active lifestyle.
You can purchase Slimina from Miss Valerie of Dull to Doll at P990 (exclusive of shipping).