I'm sure that everyone has or wants to have high end beauty products to love but sometimes we just can't afford it (yet) so we have to make do with more affordable products, right? Well, that was (and still is) my perception when I started with makeup and over the years I've tried a lot of local products which I really do love. Today I'm sharing them with you through this giveaway!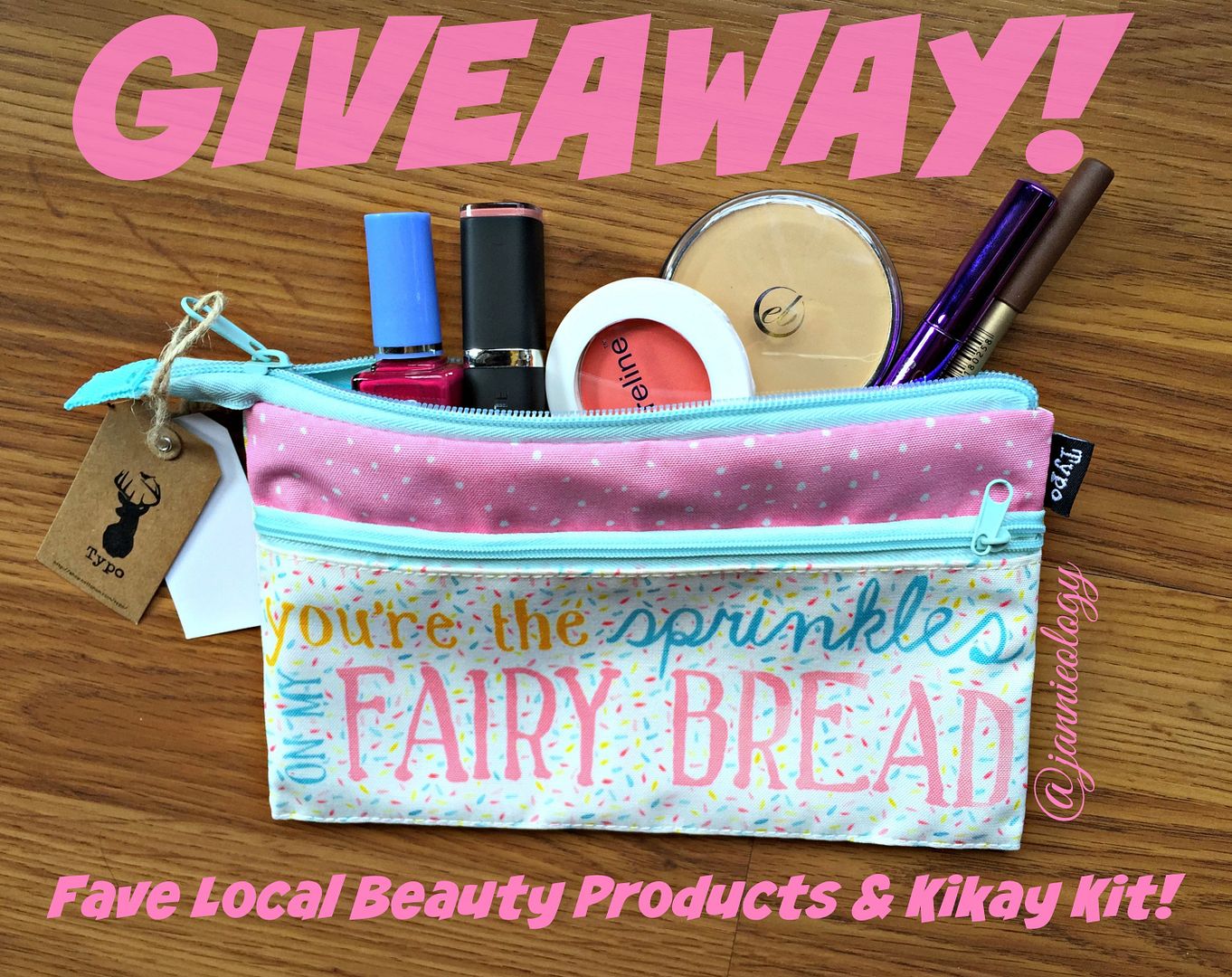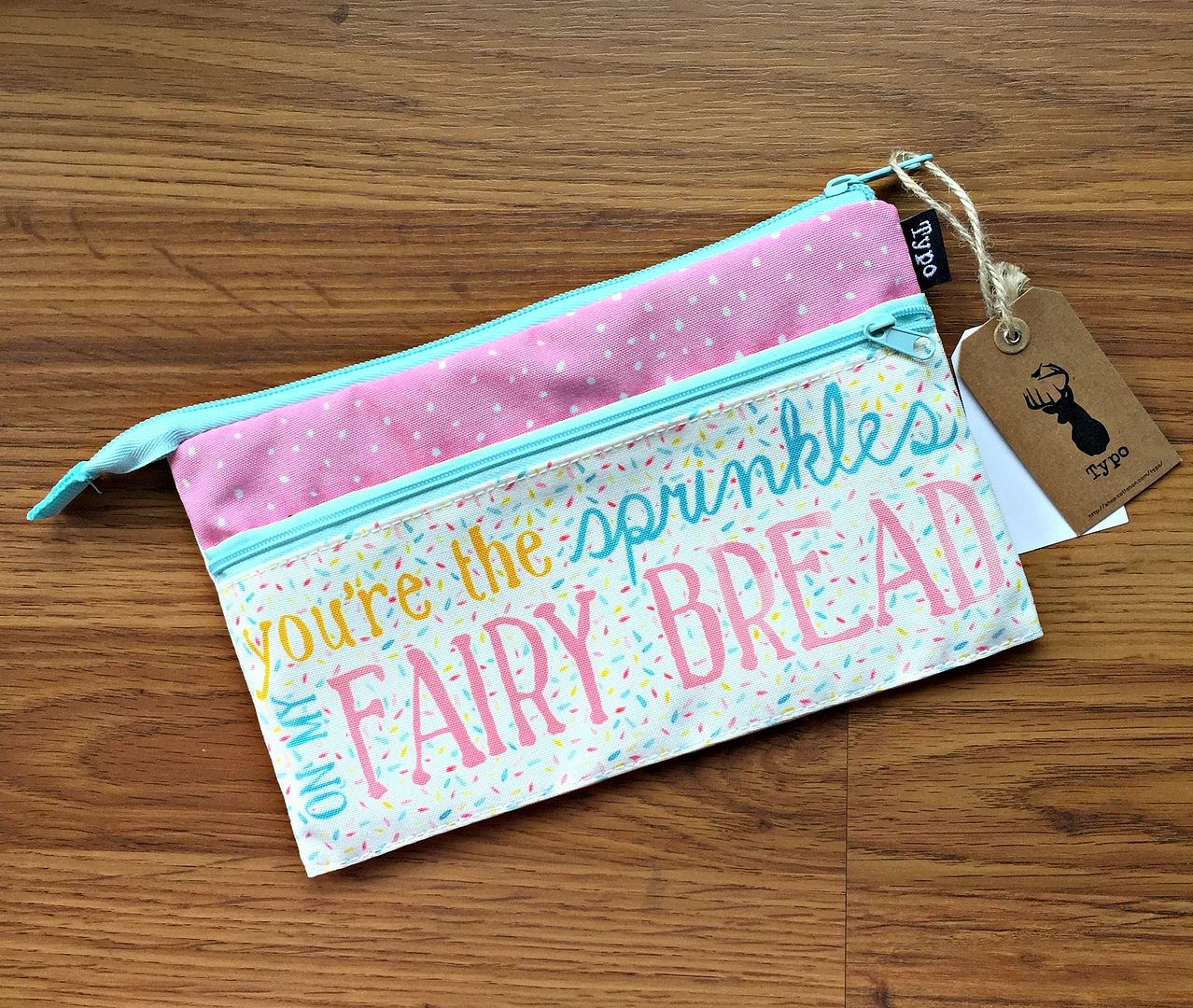 "You're the sprinkles on my FAIRY BREAD" pouch is from Typo Singapore. It's the perfect size to keep all the lovely products that I'm giving away!
Here's the rundown of only some of my favorite local beauty products! I'm giving away 6 (six) products this time...
Ever Bilena Ever Original Pencil in Brown
A lot of people compliment me on my eyebrows and always ask what product I personally use to fill in the sparse areas and create the whole brow shape. Well this my friends, is the answer! I've tried so many brow products that work wonderfully but almost always leave my wallet crying so I set out to look for something more affordable. I found the ever original pencil during the early months of 2014 and have been using it constantly. It's long lasting, easy to work with, multi-purpose (I've used this as eyeliner too!) and best of all affordably priced!
Ever Bilena Foundation Refill with UVA/UVB Protection in Soft Beige
I reserve my MAC powders for special occasions so I've always been on a lookout for a budget friendly powder that I can use to set my foundation or use on it's own. This particular one is very lightweight, has buildable coverage and doesn't make me break out. I'm in the shade soft beige which is warm and has yellow undertones, perfect for Pinay skin tones!
Ever Bilena Matte Lipstick in Mauvey
This lipstick is my go-to "local" nude-pink shade that doesn't wash me out. It has a matte formulation but I don't find it drying. It lasts long and is pigmented. I love pairing this when I go for a smokey eye look and also for everyday looks. This particular shade is considered a "favorite" among a lot of Philippine based beauty bloggers.
Careline Oil Control Blush-on in Fresh Tomato
I first read about this blush here. Fresh tomato looks a bit scary in the pan but with a light hand and good blending it looks absolutely stunning in person! It's great for everyday use and really brightens the face. This blush lasts a long time on the skin and I notice that my cheeks a less oily at the end of the day when I use this particular blush.
SanSan HD Concealer Pen in Beige
This has been a staple in my kit since I discovered it last year. I have so many good things to say about this product. It's creamy and blends well, it lasts for a long time on the skin, it doesn't cake, it doesn't budge when you set it properly and it's very pigmented. This particular shade is what I use for concealing-highlight one my under eye area.
SanSan Nail Polish in Red Gleam
Last but definitely not the least, you will receive one of my favorite nail polishes of all time! Red gleam isn't red at all, it's actually a very beautiful rich pink-maroon shade that looks very luxurious on my light-medium skin tone. It's easy to apply, isn't streaky and it really affordable!
So, on to the giveaway...
This is open to all my Philippine based readers only. The giveaway starts today and will end on March 10, 2015. I will announce the winner on all my networking sites and the winner will be given 48 hours to contact me with her/his details.
Good luck everyone and enjoy!
a Rafflecopter giveaway