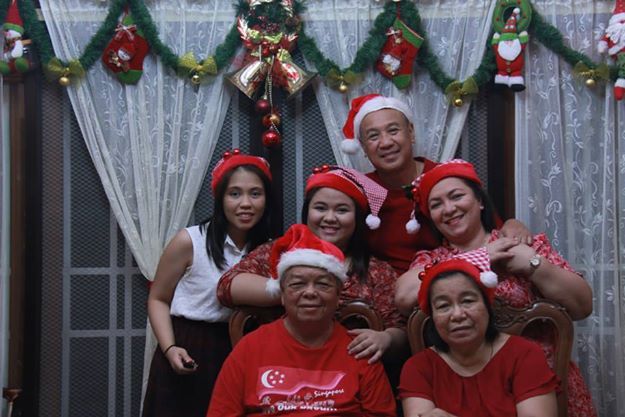 It's already a tradition for me to post Year End Thank Yous so despite my very busy schedule I've chosen to take time to sit my butt in front of the computer and type my 2014 year end thank you post although it technically isn't the "end of 2014" anymore. Last year I had a short list. Maybe this year it's going to be a bit longer.
Before I begin, I just want to point out that I've had my hair chopped short again. I feel that I always start the new year with shorter hair. I guess that's another tradition. *wink*
Let me start this post by thanking the almighty Father. I am thankful to the Lord for all the blessings He has showered upon me this year 2014. I am also thankful for all the challenges He has sent my way because it has helped me to become a better person. I'm not a perfect Catholic but the Lord has never failed to amaze me with His patience, kindness and love.
Thank you to my parents. For the love, support and understanding you both have given me. Thank you for bringing me up well and making me feel that it's okay for me to be myself. Thank you for guiding me always and yet allowing me to make my own decisions so I can learn from them. I know 2014 has been tough on our family but we've managed to pull through. I appreciate every thing you've done and given me.
To my grandparents, thank you. Thank you for taking care of me for the past 4 years. Thank you for listening to all my whining and consoling me when I've had a particularly bad day. Lola, thank you for being my second mum while mum is away. Thank you for spoiling me (almost rotten) and for handing down family secrets for baking. Lola, you are my numero uno, my best-set best friend, my most trusted confidant. Always. Forever. I love you! Lolo, thank you for constantly reminding me that life and living isn't always about the big things. Thank you for also being my most willing taste tester!
Thank you as well to my lil sister. You aren't so little anymore and you've always taken better care of me than me of you. Thank you for being my sidekick. Thank you for being my solid rock when the times emotional waters tend to drown me. I love you. I will always be "Ate Pipi" and you can always, ALWAYS count on me to have your back in everything you decide to pursue. Never allow assholes to make you feel like the lesser human, and never let them dictate what path you want to follow. Dream big my little sister, I know you will go a long way.
Thank you to my yaya & mamang. You've stuck by us through thick and thin and have never left the family when we needed you both the most. I can never repay that kind of loyalty. Thank you from the bottom of my heart.
Thank you to my real friends. I can only count the total on one hand, but I've also learned that it isn't a bad thing at all. Though you guys are few and far away, I know I can always count on you. No need for special mentions (lest others get jealous, HAHA!) because I know none of you are the type to be too showy. I appreciate all the things you've done for me especially during the times that I'm feeling downtrodden. I know our paths will always cross no matter the miles between us.
Thank you to my CMZ co-workers from my unit & complex. I've grown as a nurse because of all the teachings I've gotten from you all. I will never forget how each of you took me under your wing and made sure that I learned the best techniques to survive our unit's toxicity. I may have had rough relationships with some at the start but I'm still thankful that everything has worked out in the end. I hope to work beside each of you for a long time and enhance my skills and knowledge even more.
ANAS.
Thank you to everyone that made my 2014 a year to never forget. Hoping for a better 2015!